Over 40 Years of Service
Representing Federal Employees
The EEOC lawyers of Brown & Goodkin are uniquely qualified to represent Federal (U. S.) Civilian employees and Postal Service employees in various types of employment disputes and claims.
The workers' compensation claims of Federal and Postal employees are governed by the same laws and regulations regardless of where in the United States or overseas they may live - the law is the same nationwide and no personal appearances are required except in rare situations. These claims are decided by U. S. Department of Labor, Office of Workers' Compensation Programs (OWCP), and appeals are decided by the Employees' Compensation Appeals Board (ECAB) in Washington.
The disability retirement claims of Federal and Postal employees are decided by the U. S. Office of Personnel Management (OPM), with appellate rights to the Merit Systems Protection Board (MSPB). We have found over the years that many deserving disability retirement claims are denied due to error by OPM and/or due to improper documentation, which we can usually remedy either informally or at the hearing stage.
The wrongful termination claims of Federal (and some Postal) employees are heard at MSPB, though some employees have no MSPB appeal rights and they are limited to union grievance procedures. We have also been successful in getting fired employees re-hired, or in arranging for other favorable resolutions of such cases.
The employment discrimination (EEO) claims of Federal and Postal employees are processed at the initial levels by their employing agencies and then at the U. S. Equal Employment Commission (EEOC) and in the Federal courts.
Our firm represents Federal and Postal employees in all these types of matters, as well as additional areas such as other retirement claims, whistleblower appeals, etc.
Our EEOC lawyers are active members in nationwide attorney organizations in the areas of employment law and workers' compensation law.
Our firm was established in August 1975 in Los Angeles as the Law Office of Steven E. Brown. Since January 2007 it has been organized and practicing as a corporation (Steven E. Brown, A Professional Law Corporation). On February 1, 2015, we became Brown & Goodkin.
How We Help
If you are a federal civilian worker who needs an employee lawyer – Brown & Goodkin can help. If you are a federal employee with a dispute against your employer, you may need a federal employment lawyer. Brown & Goodkin represents all federal employees in all three branches of government (executive, legislative, and judicial), as well as U.S. Postal Service employees.
Whom We Help
We work with federal employees in their various types of employment disputes relating to injuries and disabilities, retirement, firings or other adverse personnel actions, and discrimination.
We also represent certain non-federal "employees" who are also covered by FECA for work-related injuries and diseases. These exceptions include unpaid volunteers for federal institutions and offices, state and local police who may be injured while apprehending federal criminals, federal petit or grand jurors, Peace Corps and VISTA volunteers. Please contact us with any questions regarding these special cases.
Read more about Protecting Your Rights
Our Practice Areas
If you are a non-military federal employee, you may need a federal employment lawyer to handle your workers' comp, disability retirement or wrongful termination claim. Brown & Goodkin is here to help you in these areas: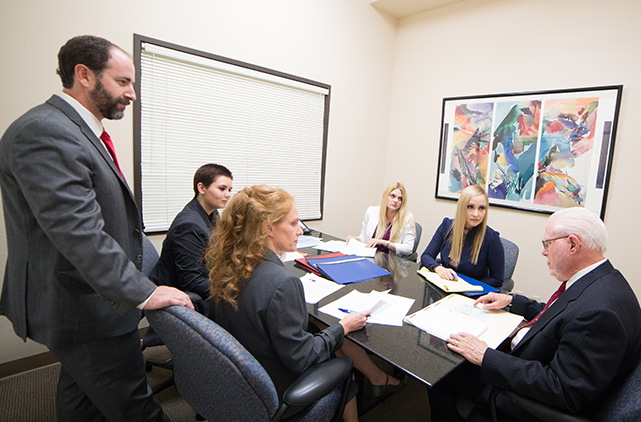 Learn more about our Practice Areas